See below for product compatibility notes for our current releases of Avenza products and Adobe Creative Cloud and Creative Suite products, as well as Windows and Mac operating systems.
MAPublisher Compatibility by Adobe Illustrator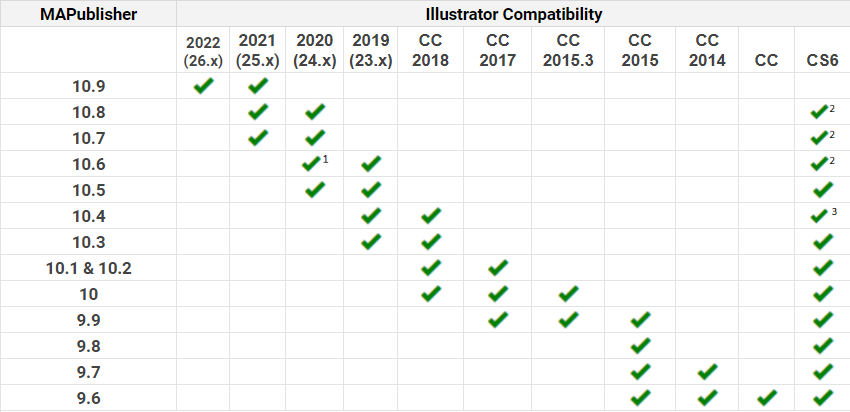 The Adobe Illustrator 2021 (v25.4) bug that affected several MAPublisher tools was fixed in a minor release. See compatibility notes.
Adobe released an update to Illustrator 2021 (v25.3) that includes native support for M1 Devices and Rotate Artboard functionality. Please note these features are not yet supported within MAPublisher at this time. See compatibility notes.
Download the latest MAPublisher 10.7 installer if you're having installer compatibility issues with Adobe Illustrator 2021 (v25.2).
MAPublisher 10.7.1 is compatible with Adobe Illustrator 2021 (v25.1).
See the latest MAPublisher system requirements.
1Adobe Illustrator 2020 (v24.2) has two known issues with Save to Cloud and Large canvas documents.

When saving new documents to the cloud using MAPublisher 10.6.0 (without saving locally first), attributes and georeferencing are not sent. Read more. Avenza recommends upgrading to MAPublisher 10.6.1 where this issue has been resolved.
Large canvas documents are not supported.

2 CS6 has been deprecated for this release
3 Adobe does not officially support this version of Illustrator on OSX 10.11 and higher. Illustrator CS6 will not run on OSX 10.15 and higher.
See the list of MAPublisher-supported formats.
See how MAPublisher supports Unicode character encoding.
Contact your local Avenza reseller before purchasing MAPublisher if you intend to use it with a non-English version of Adobe Illustrator.
MAPublisher Compatibility by Operating System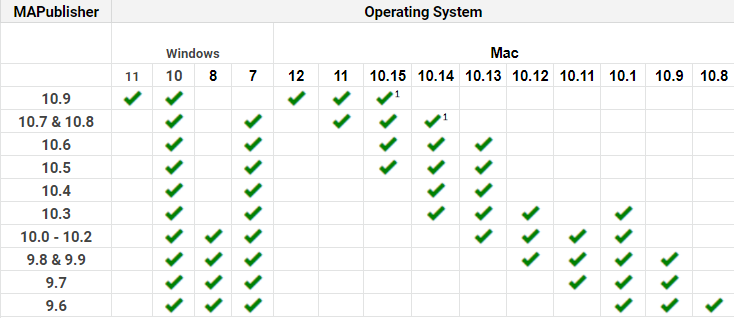 MAPublisher Compatibility by FME
For LabelPro and spatial database compatibility charts, please see the link here