Geospatial PDF files are compatible with the geospatial tools in Adobe Acrobat 9 and higher. The availability of these tools depends on the Acrobat version: Reader, Standard, Pro, or Pro Extended (Adobe Acrobat 9 only), but no additional Acrobat plug-in is necessary to view a geospatial PDF.

Geospatial PDF files can also be read in Adobe Acrobat 8, however, only attribute information is accessible (through the menu Tools > Object Data > Object Data Tool) and it does not have the geospatial tools that are available in Adobe Acrobat 9 or higher.
Available Adobe Acrobat Tools
All traditional Adobe Acrobat tools apply with the following being the most relevant:
Search: select objects with matching name first, then objects that have a matching attribute value.

Acrobat Layers panel: displays all layers and controls the display and lock of the layers.

Object Data Tool: select map objects and display their attributes in the Adobe Acrobat Model Tree (Structure Pane and Object Data Pane).
Adobe Acrobat has the following special tools to access geospatial information:
Measuring Tool: measure distance, area and perimeter.

Geospatial Location Tool: display, mark and query geospatial locations.

Geospatial Registration Tool: spatially register a PDF document by digitizing control points (Adobe Acrobat 9 Pro Extended only).
In Adobe Acrobat 9, 10 and 11, these tools are located on the Analysis Toolbar (menu View > Toolbars > Analyze).

In Adobe Acrobat DC, these tools are located on the Measure toolbar (menu Tools > Measure).

Preferences for the Measurement and Geospatial tools are found in the menu Edit > Preferences, under the category Measuring (Geo).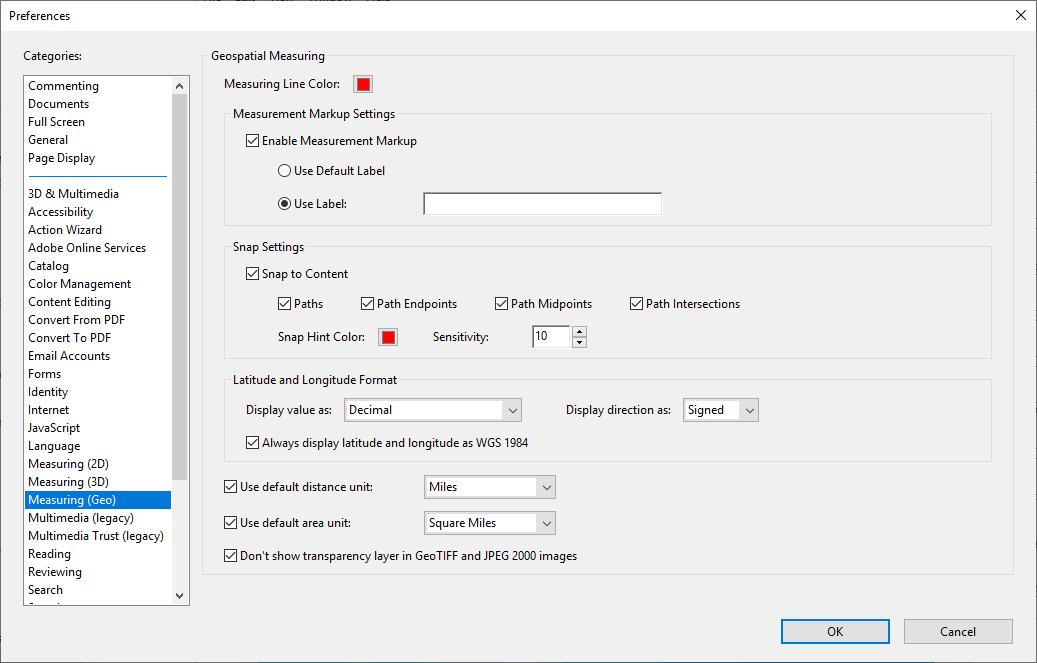 These analysis tools are described in detail in the Adobe Acrobat documentation that can be found under the Adobe Acrobat menu Help > Adobe Acrobat Help or on the Adobe Website.
Adobe Acrobat Version Comparison
Not all tools are available for every Adobe Acrobat version, below is a matrix showing the features availabile per Adobe Acrobat version:
Acrobat version

Reader 9 and higher

Standard and Pro 9 and higher

Pro Extended 9

(Windows only)

Geospatial Measuring Tool

Measure distance/perimeter/area

*

Store measurements as comments

*

Export/import PDF comments

*

Geospatial Location Tool

Show on-screen coordinates

Search for/zoom to a location

Mark location with right click

Copy coordinates to clipboard

Geospatial PDF Registration Tool

Create from GeoTIFF/JPG2000

Georegister a PDF map/image

Add shapefile layers to a map
* To enable the measurement tool in Acrobat Reader, the file must first be opened in Acrobat Standard, Pro or Pro Extended to enable annotations in the PDF (menu Comments > Enable for commenting and analysis).

The extended tools of Adobe Acrobat Pro Extended are not necessary for MAPublisher users because these functions can be performed by MAPublisher. Adobe Acrobat Pro Extended is currently not supported for Mac operating systems.

By default, viewing coordinates with the Geospatial Location Tool will show latitude and longitude in WGS84 when the Always display latitude and longitude as WGS 1984 option is enabled in Adobe Acrobat preferences. A map with a geodetic base other than WGS84 should have the Always display latitude and longitude as WGS 1984 option unchecked.