The MAPublisher LabelPro labeling engine offers advanced labeling capabilities beyond those available in MAPublisher Label Features. The MAPublisher LabelPro engine contains sophisticated algorithms that solve many of the most common map labeling problems such as complex conflict resolution across multiple layers, the ability to specify data as obstacles and the ability to create complex labeling conventions via user defined rules. The MAPublisher LabelPro engine uses map data attributes for labeling and provides a much greater level of sophistication and control that can be configured through an intuitive user interface. Data layers may be assigned an order of prioritization for labeling sequences and existing text can be recognized as obstacles for multiple labeling sessions if necessary. Placement rules and properties can be saved to a settings file and imported into other documents.
Only Point, Line and Area layers can be labeled using MAPublisher LabelPro. Text layers may be used as obstacles.


Requirements
Before labeling with MAPublisher LabelPro, it is recommended to create destination MAP Text layers (where new labels will be contained). Optionally, create text suppression layers for labels that can't be placed by MAPublisher LabelPro. To create a new text layer, use Add MAP Layer in the MAP View panel. Alternatively, create Text layers on label generation.
For each source layer, MAPublisher LabelPro derives the labels from a selected attribute column. Use the MAP Attributes panel to analyze and/or edit the information prior to labeling. For instance, to force some labels to be stacked, users can insert the characters && in the MAP Attribute value to indicate a Carriage Return — this can be done by combining two columns into a new one or using the Find and Replace function.
MAPublisher LabelPro generates static text, therefore, the map extent and scale should be established prior to labeling. Once placed, labels do not maintain a link with the source data.
To label only selected art, make an art selection on the artboard, start MAPublisher LabelPro, and click the Apply only to selected art option.
In MAPublisher Preferences, the base rule and style folder paths can be set for MAPublisher LabelPro. By default, invisible objects are ignored by MAPublisher LabelPro (they will not be labeled or used as obstacles). To take them into consideration, uncheck the Ignore invisible artwork option. Also, check the Merge multiline text option to create single line text labels. For more information about MAPublisher Preferences.


Using MAPublisher LabelPro
To start MAPublisher LabelPro click the MAP LabelPro button on the MAPublisher Toolbar or from the menu Object > MAPublisher > MAP LabelPro.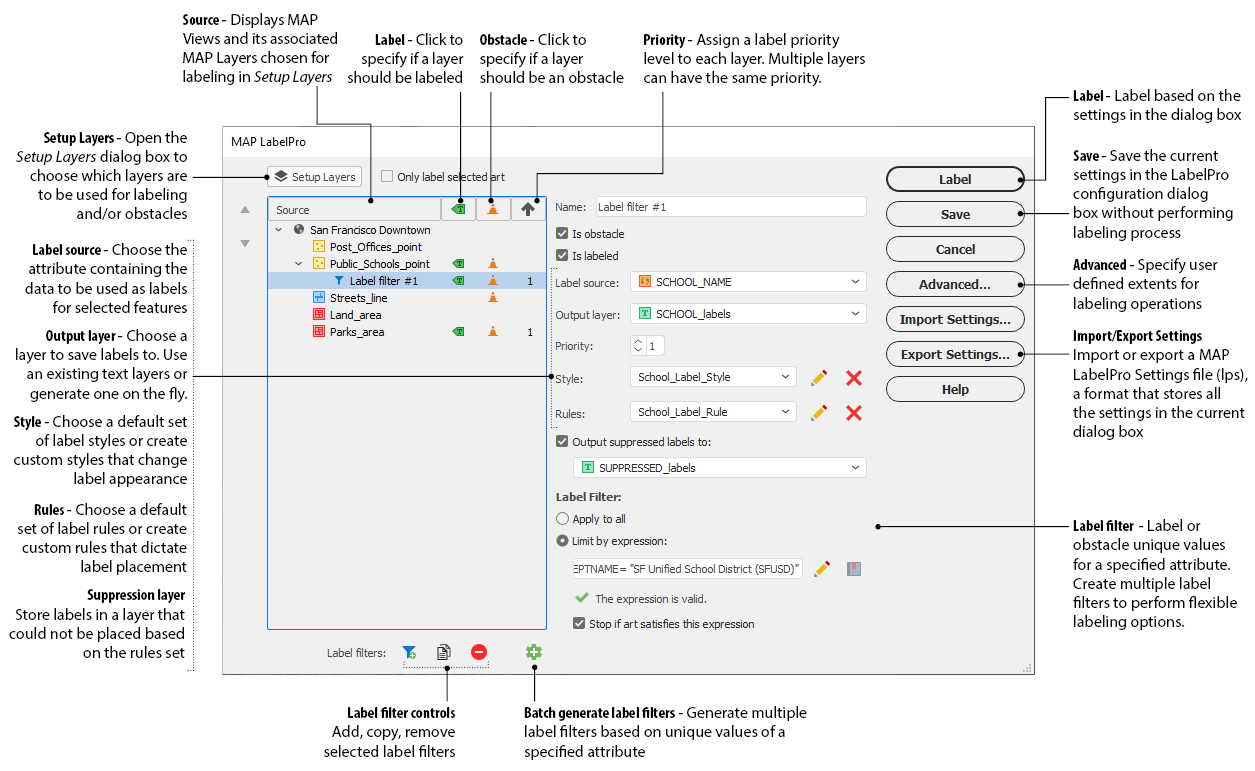 Context menus
Right-click (Windows) or Ctrl-click (Mac) to access the following context menus: