The MAPublisher Toolbar provides easy access to launch the MAPublisher tools and panels. It is compatible with the light and dark user interface of Adobe Illustrator. It is divided into eight categories:


•Import/Export
•Properties
•Data Creation
•Geoprocessing
•Organization
•Thematic Tools
•Labels
•Layout Tools


Customize the MAPublisher Toolbar
The MAPublisher Toolbar can be customized to only show specific tool categories. To show or hide specific toolbar sections, click the Customize Toolbar button and select the appropriate section. A checkmark beside a section indicates that it is currently visible. To quickly show or hide all toolbars, select the Show all or Hide all option, respectively.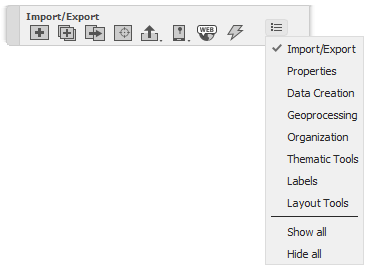 Import/Export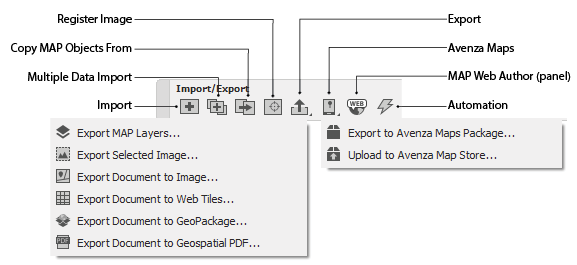 Import | Multiple Data Import | Copy MAP Objects From | Register Image | Export | Avenza Maps | MAP Web Author | Automation


Properties

MAP Views | MAP Attributes | MAP Info | MAP Locations | MAPublisher Log


Data Creation


Line Plotter / Area Plotter | MAP Point Plotter | Find Places | Add Calculated Data | Georeference Data

Geoprocessing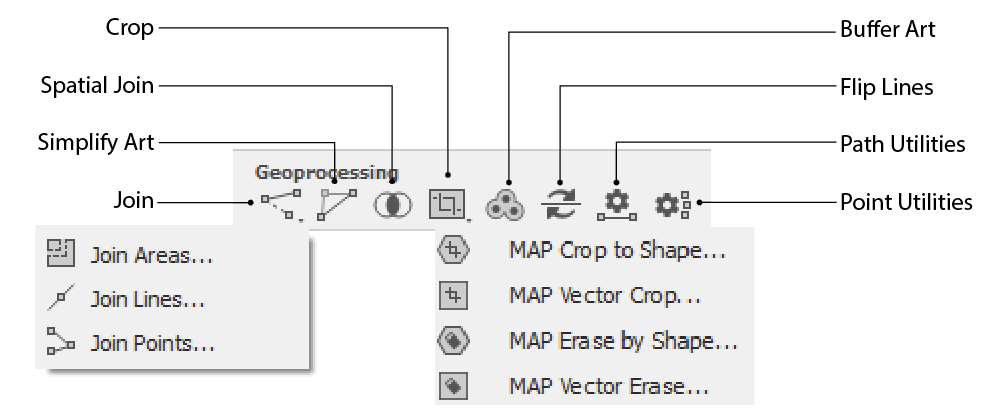 Join Areas / Join Lines / Join Points | Simplify Art | Spatial Join | MAP Crop to Shape / MAP Vector Crop | MAP Erase by Shape / MAP Vector Erase | Buffer Art | Flip Lines | Path Utilities | Point Utilities


Organization



MAP Selections | Merge Layers | Split Layers


Thematic Tools


MAP Themes | Create Halo | Scale & Rotate By Attribute | Dash Offset

Labels

MAP LabelPro | Label Features | Text Utilities | Create Knockouts


Layout Tools

Grids and Graticules | Make Index | Scale Bar | Elevation Profile | Create North Arrow