The Index Grid is a grid that is based on a specified number of columns/rows or cell size in page units. By default, the page units are specified in MAPublisher Preferences. The By cell size in page units option may result in partial cells being created. When this option is chosen, the Partial cells get labeled option is enabled (in order to include them in the indexing process) in Cell References. The Minimum size of cells setting is used to set the minimum size of the partial cells to be labeled—cells that are smaller than this minimum will not get labeled and will not be used for indexing.
By default, a grid is created for the entire extent of the MAP View. To limit the grid to only a certain extent, click the Specify Grid Bounds option. Use artboard corners, coordinates, or MAP Locations to define grid boundaries.
See the following for detail on how to adjust and style grid lines, grid border, line labels and cell references.
Grid Lines

| | |
| --- | --- |
| Draw Grid Lines | Enabled by default. Draw solid lines or intercepts (where grid lines intersect). Click the style link (shows stroke) to edit line appearance. |
Grid Border

| | |
| --- | --- |
| Draw Border | Enabled by default. Draws a solid border. Optionally, choose to increase offset from grid cells. Click the style link to edit line appearance. |
| Draw Ticks Along Border | Draws tick marks along the grid border. Choose to increase offset from center of tick and set orientation away from/toward map face. Click the style link to edit line appearance. |
Border Intervals

| | |
| --- | --- |
| Draw Border Intervals | Draws border intervals around the grid bounds. Use the Minor and Major Intervals settings to set a size (height). The Subdivide Major Intervals option draws lines in the subdivision intervals and can be set to be drawn at even or odd intervals. Click the style link to edit line appearance. |
Line Labels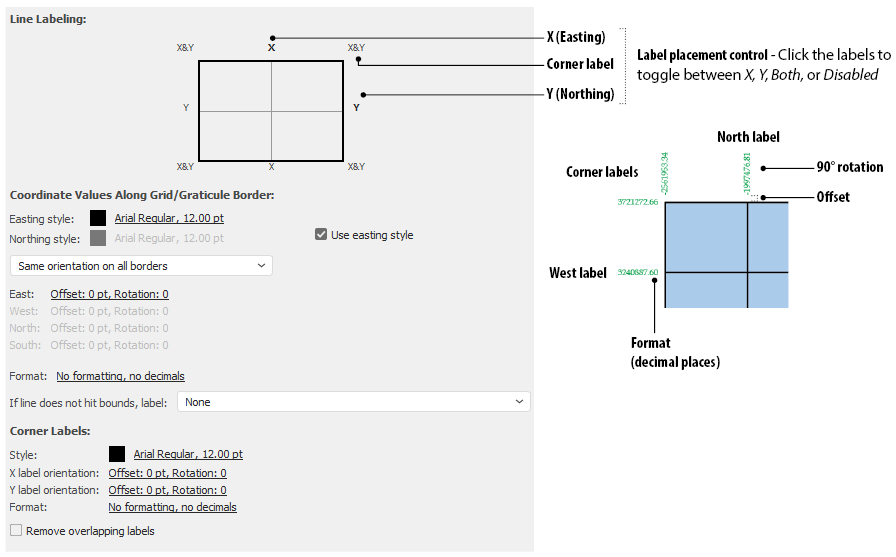 | | |
| --- | --- |
| Coordinate Values Along Grid/Graticule Border | Click the Easting and Northing style link to edit label appearance. |
| Label Orientation | Settings that affect all, east/west, north/south, or individual labels. The West/East/North/South settings are enabled based on the drop-down option. Click the style link to edit its appearance. |
| Corner Labels | Click the style links to edit the appearance, offset, rotation, and format of corner labels. |
| Remove overlapping labels | Remove overlapping labels from other grids listed lower in the Grid Collection. |
Cell References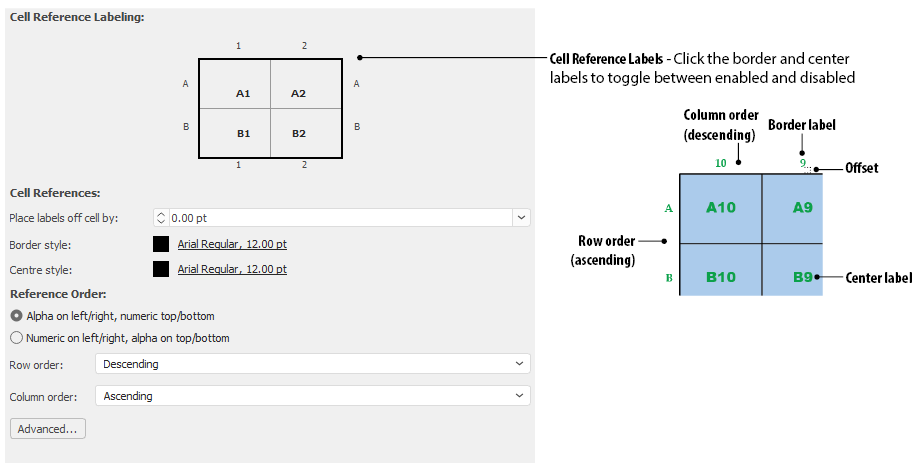 | | |
| --- | --- |
| Place labels off cell by | Select a label offset from the grid bounds. |
| Border style | Affects border reference labels. Click the style link to edit the appearance. |
| Center style | Affects center cell labels. Click the link to edit the text appearance. |
| Alpha/Numeric on left/right, top/bottom | Choose to swap the alpha and numeric along the left/right and the top/bottom. |
| Row/Column order | Choose descending or ascending row/column label order. |
| Advanced | Custom start alpha and numeric characters, reference separator, and reference label order. |