Merge Layers combines at least two MAP Layers of the same feature type into a new MAP layer based on its attribute values. The art from the source layers can either be copied or completely moved to the new layer (including its attributes).
This tool is particularly useful to combine layers that contain multiple objects. In the example above, eastusa (eastern United States) and westusa (western United States) are being combined to form one layer containing both. Merge Layers can be used as a preliminary to exporting layers to other GIS formats.
Using Merge Layers
On the MAPublisher Toolbar, click the Merge Layers button or from the menu Object > MAPublisher > Merge Layers.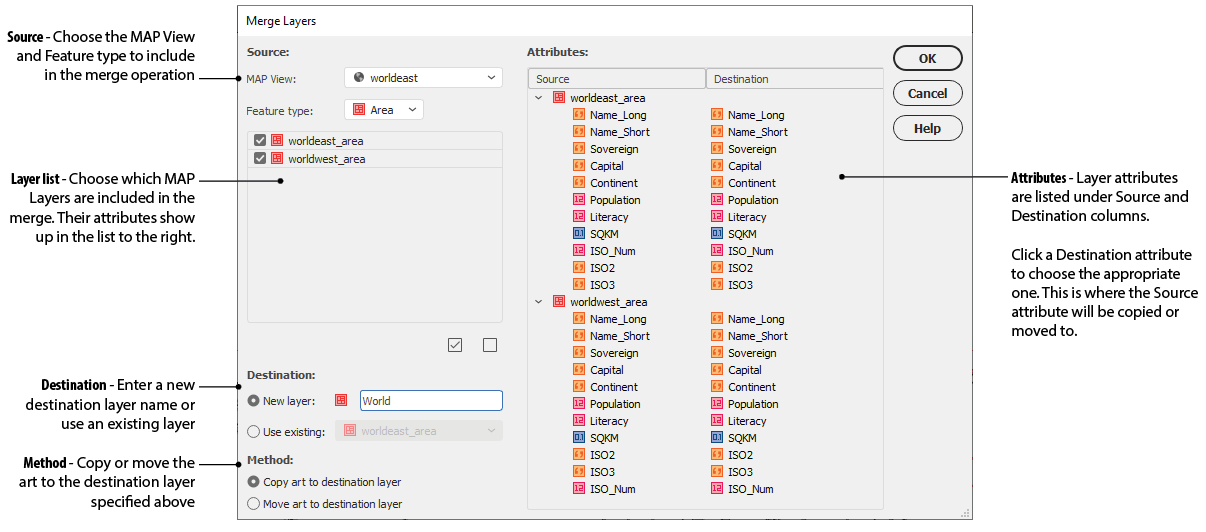 Source
In the Source section, choose a MAP View from the drop-down list to load its MAP layers. Click the Feature type drop-down list to filter the layer list to only show a specific feature type (only layers of the same feature type can be merged together). In the Layers list, click the checkbox of at least two layers to include them in the merge. When chosen, layer attributes are shown in the Attributes box.
Destination
In the Destination section, enter a new name in the Layer box or choose an existing layer. The new layer will be of the same feature type as the source layers.
Method
The Copy art to destination layer and Move art to destination layer options are available to copy or move the source art to the new layer specified in the Destination section, respectively.
Attributes
The Attributes section displays the MAP layers chosen for merge. Click the arrow beside each MAP layer to display its attributes.
The attributes are split into two columns: Source and Destination. The Source column shows the attributes for all MAP layers. The Destination column shows where the Source attributes will be moved or copied to in the destination MAP layer. To change the destination attribute, click it to reveal a drop-down list (which contains every attribute from all chosen layers) and choose a new attribute. Alternatively, choose Drop to exclude it from the destination MAP layer.


Results of Merge Layers
The result of a merge when using at least two MAP layers is a destination MAP layer containing all artwork and designated attributes. When the source layers have the exact same attribute schema (provided no changes to destination attributes are made) the result in the destination MAP layer will be the same attribute schema.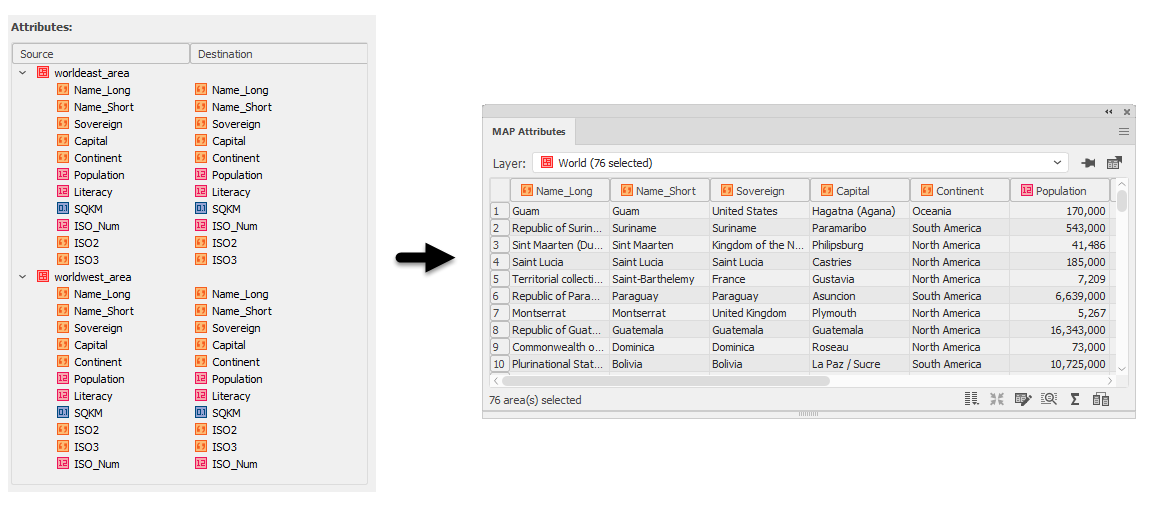 When source layers have different attribute schemas, the designated attributes in the destination layer may be empty for the opposing layer (unless the attribute was specifically set as a destination for the other layer).

After a merge of MAP layers containing sub-layers, the original sub-layer structure is maintained.
The attribute column 'Source Layer' is generated in the destination layer. This attribute displays the origin of each merged layer.